Optimize organizational decision-making and execution through collaborative leadership.
Columbia University's Master of Science in Information and Knowledge Strategy (IKNS) is a leadership development program that produces executives who can optimize organizational decision-making and execution by building and energizing high-performing teams capable of tackling the toughest challenges and greatest opportunities organizations face. Our graduates understand business strategy and can leverage their expertise in collaboration and knowledge sharing across silos to help fulfill mission and vision. Their training translates to increased productivity and impact across all industry, nonprofit, and government sectors.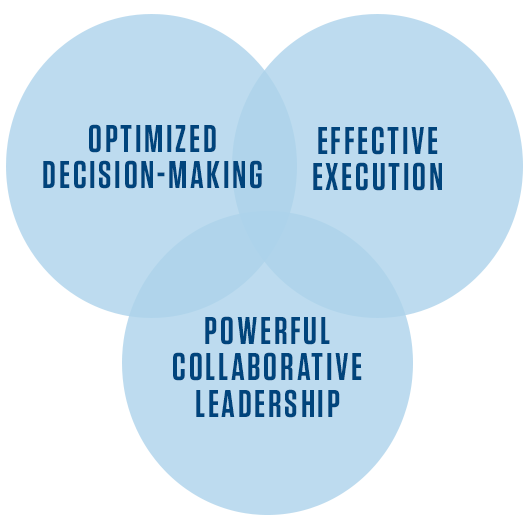 Core Competencies
Build skills that are immediately applicable to your workplace, including how to:
Create and lead high-performing teams
Enhance collaboration inside and outside your organization
Compete on analytics
Leverage strategically important organizational knowledge

Accelerate mission-critical knowledge sharing
Improve productivity by embedding knowledge in smarter business processes
Support your organization's knowledge-sharing strategy with the right technology
Turn knowledge into marketable assets

Facilitate effective change management
Develop a customer-centric approach to your work
Build human networks that provide support, opportunity, and purpose
Program Benefits
Develop
essential skills in collaboration, strategy, business analytics, knowledge development, retention and transfer, information governance and security, innovative digital product design, entrepreneurship, and change management to lead knowledge-driven organizations.
Enhance
a leadership role in all industry, nonprofit, and government sectors.
Specialize
your study by choosing electives from IKNS or one of the other M.S. programs offered by the School of Professional Studies.
Balance
your career and academic life over 16 months with online classes one weeknight per course, virtual collaboration and discussions, and three four-day residencies on Columbia's campus in New York City.
Connect
with faculty who have held leadership positions at global organizations including Accenture, Bain & Company, IBM, NASA, McKinsey & Co., Microsoft, and World Bank.
Apply
your skills and knowledge through a group capstone project for a leading for-profit or nonprofit organization.
Join
the Columbia IKNS network of your global cohort and more than 300 alumni who have advanced in their careers or responsibilities with their IKNS degree at places like ADP, American Express, BCG, Google, Hilton Hotels, JPMorgan, Nike, Pfizer, Publicis, Thomson Reuters, United Nations, USAID, and World Bank.
Career Snapshot
Our students and graduates achieve positions such as these:
Operations Manager, Amazon
Senior Manager, Process Reengineering, American Express
Senior Manager, Amgen
Global Knowledge Lead, BCG Digital Ventures
Founder and CEO, The Beauty Marketplace
Executive Director, Business Integration Partners
Senior Manager, HR Operations, Gilt
Head of Performance Data Science, Google
Vice President, Digital Learning Solutions, JPMorganChase
Principal Consultant, McChrystal Group
Global Account Manager, Medidata Solutions
Director of Operations, National Basketball Players Association
Director of Operations, NYC Department of Education
Director Core Process and Technology, Pfizer
Vice President, Content & Services, Ralph Lauren
Founder and CEO, Smart Alto (Y Combinator W17)
Senior Counsel, Digital/Technology, Vanguard
Knowledge Management Officer, World Bank Group