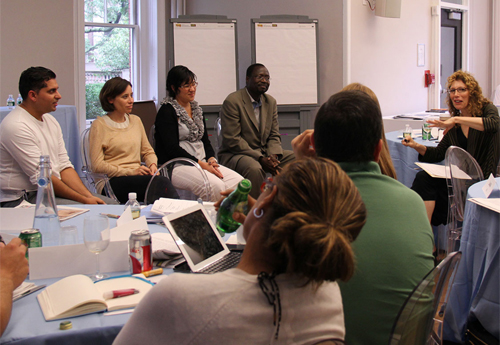 Learn from distinguished faculty, explore innovative leading practices, and leverage your potential to shape the future.
The mission of Columbia University's School of Professional Studies is to provide a rigorous education, informed by rapidly evolving global market needs, that supports the academic and professional aspirations of our student community. This mission powers Columbia University's Executive Education, which takes an interdisciplinary approach to incorporate thought leadership from faculty across the University and industry practitioners to deliver best-in-class programming on a range of topics.
Our Approach to Programming
Executive Orientation
We recognize that our attendees are highly accomplished and knowledgeable learners.
Two-Way Learning
We engage participants in active discussions, and use their knowledge and expertise to inform our instruction.
Cutting-Edge Topics
We expose participants to the best current thinking and trends within and outside of their industry.
Self-Enhancement Opportunities
We provide extensive opportunities for self-reflection and growth, personally and professionally.
Scholar-Practitioner Instruction
Our faculty combine executive roles in industry with teaching and academic research.
Change Management Strategy
We enable participants to apply frameworks and tools to anticipate, create, and manage strategic change.
Online Features
We leverage our online learning platform to increase reach, convenience, and flexibility.