| | |
| --- | --- |
| 12 points for program completion | On-campus instruction |
| Part-time program * | Fall intake |
| 2 terms to complete | |
* Enrollment in this program does not meet the full-time requirements for an F1 student visa.
Program Structure
The Environment, Peace and Security certification is comprised of six courses. Two core courses are offered one evening a week for one term each. Elective courses meet once a term from Friday morning through Sunday afternoon. Each term for two consecutive terms, you will take one core course and two elective courses.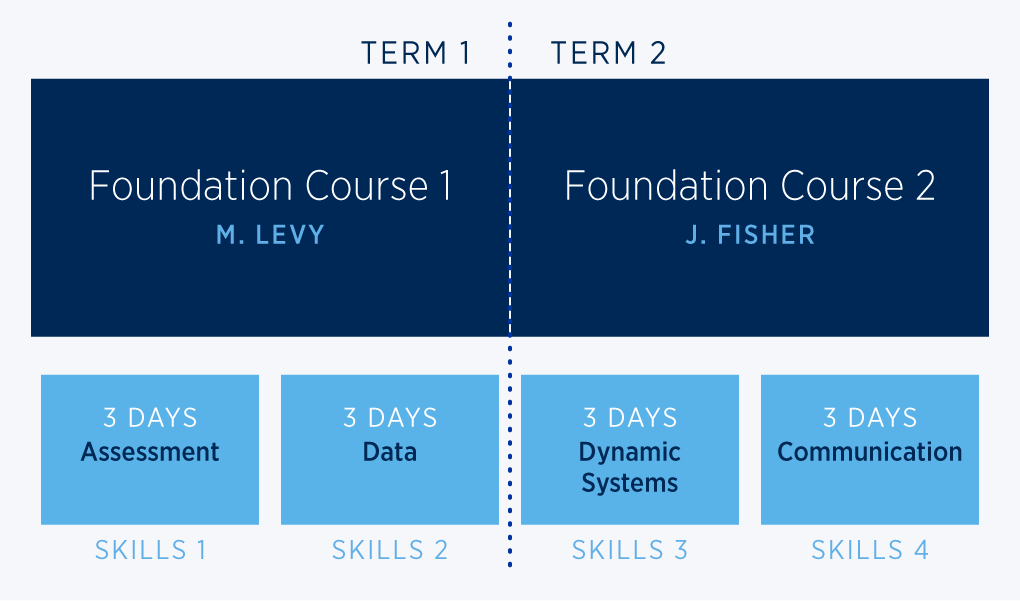 If you complete all six courses in the program sequence with a 3.0 (B) or better in each course, you are awarded a Certification of Professional Achievement in Environment, Peace and Security. You are required to maintain an overall minimum GPA of 3.0 (B).
Noncredit Option
Students who are interested in the subject matter of the Environment, Peace and Security Certification but do not desire academic credit are welcome to take courses on a noncredit basis. These students are expected to fully participate in the coursework, complete all assignments, and attend the live sessions as for-credit students do.
Course Listing
---
Core Courses
Making Sense of Environment-Peace-Security Linkages: A Survey of Competing Approaches. 3 pts.
This course provides an introduction to environment and conflict linkages. It will critically analyze the connecting phenomena of political conflict, environmental change, and natural resource management. You will gain a deeper understanding of these linkages through application of analytical models and examination of empirical case studies. Three categories of linkage will be focused on:
Impact of conflict on the environment

Impact of natural resources on conflict

How natural resources can play a role in conflict prevention and peacebuilding
Within the framework of these linkages, the course will expose students to the cutting-edge scientific research around these converging factors of human security, climate change scenarios, environmental services, natural resource depletion, conflict dynamics and economic development. The course will provide an overview of the latest research and analysis tools to advance understanding of these issues. It will also demonstrate and provide a range of practical tools and approaches to respond to the severity, potential risks and opportunities for global security and business development.
Conflict Resolution for the Environment and Peacebuilding: Theory and Frameworks. 3 pts.
The course will build on the insights gained in the Foundation 1 course and enable students to apply that knowledge to manage conflicts with environmental factors. The course will cover topics in conflict engagement and provide case studies that link them to environment and natural resources. These topics include cooperation and competition, power, culture, justice, negotiation and mediation, intractable conflict and sustainable peace, emphasizing the links between theory, research and practice. Three categories of conflict resolution will be focused on:
Conflict analysis: foundational theories to provide deeper conceptual understanding of the nature of conflict in socio-ecological systems, conflict escalation, and frames to help analyze and interpret conflict phenomena.
Intervention Design and Monitoring: transition from understanding conflict phenomena to identifying intervention points and selecting appropriate tools and techniques for conflict management and peacebuilding.
Evaluation and Impact Assessment: in-depth case study in which students will apply the concepts and frameworks linked with monitoring and assessment tools techniques to specific environmental-based conflict.

Through this overview course, students will be primed to gain deeper knowledge and expertise with these components to conflict management and peacebuilding through the elective course offerings.

Elective Courses

Environment and Conflict Assessment Methodologies. 1.5 pts.

This course will introduce the different types of conflict and environmental assessments deployed in fragile states and post-conflict contexts, and review methodologies from the United Nations, private sector energy and natural resource companies, political risk and emerging market analysts, and government agencies. The assessments will focus on thematic focus assessment methodologies, ranging from post-conflict assessments where environment is a subset of variables, to specific post-conflict environment assessments. The course will review how environment is evaluated as a risk for investors and how environmental-linked conflict is assessed for private companies, as well as specific types of environmental assessments: water, energy, climate, natural hazards, natural resources, agricultural and livelihoods.

Data Collection and Visualization Tools for Environment, Conflict and Peacebuilding. 1.5 pts.

This course introduces data collection technologies ranging from spatial data and remote sensing to crowdsourcing approaches. You will learn basic mapping and data analysis competencies such as understanding the role of data in decision-making and availability of data in these case study contexts, and an overview of data collection approaches, data management platforms and application of the data for conflict and environmental management. This will include a review of existing data sources related to environment and conflict, review of new data collection tools and platforms and allow students to explore a specific subset of this field through a project. Tips for data use will be also offered.

Systems Approaches to Environment and Security: Risk Assessment and Program Design. 1.5 pts.

The environmental, peace, and security concerns that arise during conflict encompass a wide range of physical, social, and ecological aspects, and thus system-oriented paradigms are required to prepare students to manage those unfolding dynamics. Through the lens of dynamical systems and socio-ecological systems, this course enables students to deepen their knowledge of conflict drivers and system dynamics to better understand risk and uncertainty in complex situations. Students will be immersed in Dynamical Systems Theory (DST), and apply it to better understand how to identify intervention points, incorporate risk management into program design and implementation and adaptively manage a peacebuilding initiative or conflict management intervention.

Communication and Facilitation for Environment, Peace, and Security. 1.5 pts.

This course provides students with opportunities to learn, apply and practice communication and facilitation approaches to small and large group, multi-stakeholder processes in their roles as negotiators and third party interveners. This course presents a communication model and related frameworks that students will apply toward developing their own communication skills, as well as, learns techniques to develop more effective and constructive communication skills in the parties with whom they work. Students will explore the role of perspective-taking and cultural orientations in order to increase cultural sensitivity toward the language we use and the impact it may have on others.

There are typically various stakeholder groups involved in environmental and natural resource conflicts, often with seemingly competing goals. These exchanges between the different stakeholder groups are often destructive as assumptions are acted upon without being explored. A skilled facilitator will allow for more structured and nuanced communication exchanges toward more effective outcomes. Students will increase how to manage their understanding of others and present their communication to be aligned with their intentions in addition to working to support other parties exchanges and understanding. We will also explore important communications in the public sphere.

The University reserves the right to withdraw or modify the courses of instruction or to change the instructors as may become necessary.