SPS Expands Financial Aid Opportunity for Veterans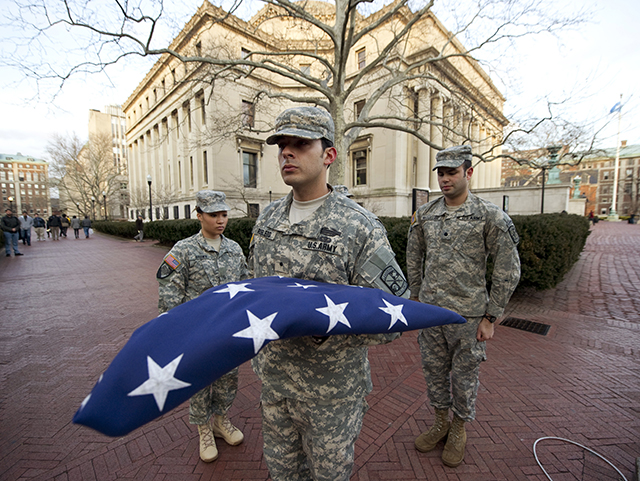 From left: ROTC cadets LeTricia Brown, Jose Robledo, and John McClelland stand after folding the U.S. flag during a flag lowering ceremony at Columbia University. Photo credit: DON EMMERT/AFP/Getty Images.
Columbia University's School of Professional Studies (SPS) has significantly expanded its support of veterans through the Yellow Ribbon Program, increasing its maximum per-student contribution by 20 percent and removing the cap on the number of eligible students who may participate.
SPS offers 13 professional master's programs and 17 certificate and Certification of Professional Achievement programs that are market-driven and support the academic and professional aspirations of its entire student community. The Yellow Ribbon Program provides a financial aid opportunity to eligible students of these programs who served in the U.S. Armed Forces on or after September 11, 2001. For the 2017–2018 academic year, SPS is offering an unlimited number of these students a maximum contribution of $9,000 each.
The Yellow Ribbon Program is a key area of the Military and Veterans Initiative that SPS launched in 2016 to provide U.S. military personnel and veterans with the crucial support and training in market-driven careers that will help them succeed in the workforce.
Jason Wingard, Ph.D., Dean of SPS, says: "Through the Yellow Ribbon Program and launch of our Military and Veterans Initiative, the School of Professional Studies is enabling those who have served our country in the Armed Forces to pursue a market-based, professional degree or non-degree program that will prepare them to succeed in their second careers. This opportunity is an integral part of our School's strong commitment to expanding access to an Ivy League education to highly qualified members of underrepresented groups, including veterans."
SPS students who are interested in the Yellow Ribbon Program may submit an online application. More information is available on the Columbia Student Financial Services Yellow Ribbon Program webpage.