Our curriculum is designed to anticipate and exceed industry needs. It equips students with knowledge and skills to excel in the evolving workplace, and fosters leaders in the rapidly expanding actuarial profession.
Program Features
Leading-Edge Subjects
In addition to offering a solid actuarial foundation, the program's emphasis on leading-edge subjects, including predictive modeling, machine learning, risk management, and financial markets, allows students to build essential skills in innovative practices.
Academic Excellence
An academic committee staffed by faculty from Columbia's Department of Statistics, Department of Industrial Engineering and Operations Research (IEOR), and elsewhere at the University, steers the curriculum quality, admissions criteria, course approvals, and faculty hiring.
Interdisciplinary Study
Students have access to many courses offered across the University, including through the Departments of Statistics, Math, and Economics, and the M.S. in Enterprise Risk Management and Business Certification programs.
Scholar-Practitioner Faculty
All core courses are taught by actuaries and analytical professionals who have a Ph.D. and 15+ (most of them 20+) years of industry experience. Most also have SOA/CAS (Society of Actuaries/Casualty Actuarial Society) designations.
Worldwide Recognition
Eduniversal ranks the program third among insurance, risk, and actuarial science master's programs worldwide.
Leadership Development
The program's professional and career development features and courses have been tailored to build leadership, presentation, and communication skills.
Global Network
Students and graduates join an elite global network of 650+ Ivy League alumni who hold pivotal roles, and industry thought-leaders who are aligned with the program.
Curricular Design Strategy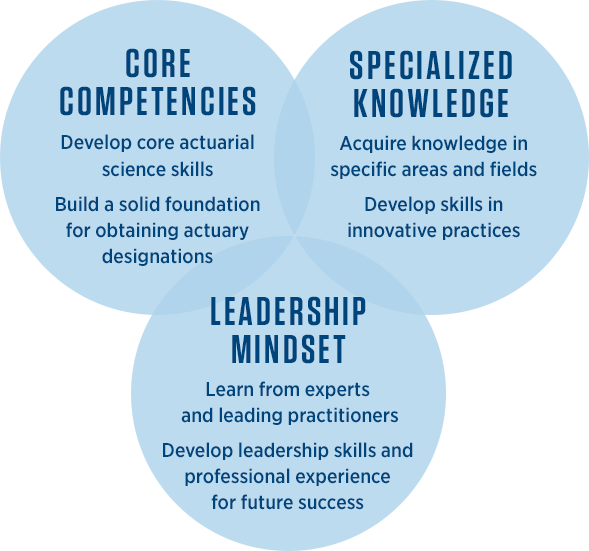 A Powerful Global Network
This list represents a sample of the 160+ organizations that are part of the program's global network. Many of these organizations provide employment opportunities to our students and alumni, participate in the Proseminar lecture and networking series, act as mentors for the Integrated Project elective, and take part in annual events including the Columbia Actuarial Science Career Day, Columbia Actuarial Science Program Career Fair, and the Actuarial Society of Greater New York's Actuarial Career Fair.
AXA
Deloitte
Ernst & Young
Guy Carpenter
Metlife
Milliman
New York Life
Oliver Wyman
Prudential
PWC
RGA
Transamerica
Willis Towers Watson
What Students and Alumni Say About the Program
Who Should Apply
Recent College Graduates
With a strong background in a quantitative field, such as mathematics (including teachers and tutors), statistics, actuarial science, physics, economics, computer science, accounting, or finance.
Career-Changers
With strong quantitative skills who are looking to transition into the actuarial field.
Prospective Actuaries
Interested in starting a career, career advancement, and exam preparation.
All applicants require knowledge of elementary economics, linear algebra, and multivariate calculus.