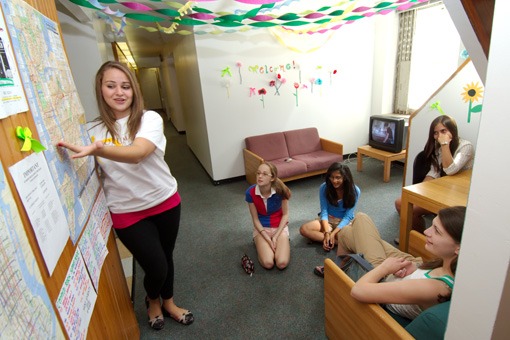 The application for the Internship in Building Community 2019 is now open.

The Internship in Building Community (IBC) affords undergraduate and graduate students the opportunity to develop collaboration and leadership skills while working for a dynamic, multicultural academic program. While a student life internship at heart, the greater value of the IBC lies in the broad range of professional skills and experience that interns can acquire in such diverse fields as student affairs, communications, higher education administration, academic affairs, online media, event planning, and education.
About the Program
The Internship in Building Community is ideal for growth-oriented, creative college students who are interested in collaborating with others to build and help shaped a sophisticated residential and campus life community. Interns hone their communication, leadership, and organizational skills while contributing in such areas as teaching, student affairs, event planning, higher education administration, academic affairs, civic engagement, media, publicity, or marketing.
Learn valuable career skills;
Work with bright, highly motivated peers and high school students;
Spend a summer in New York City;
The IBC is a paid internship with full housing, and a weekday meal plan.
The IBC is divided into two parts:
A two-week Seminar in which interns work with program veterans and communications and leadership professionals to share, learn and innovate strategies of community leadership and group organization. Optional career skills seminars further provide interns with a holistic view of career development and strategies for building professional competencies.

A Practicum, lasting six weeks, in which each intern serves as both a resident adviser and a program assistant for Columbia's Summer Program for High School Students. Using skills developed during the Seminar, interns are responsible for creating a cohesive, lively, and respectful student community.

Intern Responsibilities During the Practicum

Throughout the Practicum, interns meet to discuss their experiences, challenges, and accomplishments, adding to their skills and contributing the development and capabilities of the program.

The interns complete the program with real-world experience in leadership and responsibility, and find that their fellow interns have become a valuable network for sharing experiences and support in the future.