Three IKNS Students Partner with Lyrasis CEO Robert Miller
On May 3, 2015, I got a call from IKNS Capstone Sponsor Robert Miller, General Manager of Digital Libraries for Internet Archive.
"Kate," he said, "I've really found thinking partners in your students."
I braced myself for the "But..."
He continued, "I'm moving from Internet Archive to LYRASIS, a library services and advocacy group — in fact, a CEO position. I want to take them with me."
It was music to my ears. I had met Robert at a week-long planning conference on the future of information resources. As a knowledge-practitioner, not a librarian, I felt completely out of place. I was surrounded by the chief librarians of Harvard Business School, Library of Congress, and equivalent organizations in Canada. Robert became my friend there – another (equally vocal and jocular) non-librarian, willing to contribute a "business" message to the mix. I had hoped he'd contribute to the Information and Knowledge Strategy (IKNS) master's program at Columbia, and, to my delight, he agreed to be a Capstone Sponsor.
By December 2015, Robert's Capstone team – Karina Mikucka, Meagan Young-Montisci, and Carlota Sage – were elbow deep, working away at his (virtual) side as strategic partners, redefining LYRASIS' mission and value proposition, and evaluating his market, products, team and strategy. His Capstone "think-tank" has been right there with him, helping blend their professional experience and their IKNS studies with his passion and direction.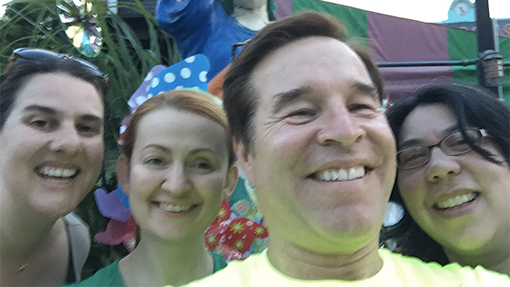 from left: Meagan Young-Montisci, Karina Mikucka, Robert Miller, and Carlota Sage
In fact, he corrected me that these weren't just "students" but "professional dynamos." They researched, charted, and analyzed options, focusing on aligning people, processes and technology to drive innovation. They focused on:
Cultural Innovation. The students piloted a 360° Peer Review and realized that because LYRASIS is an amalgamation of organizations with little shared history, it lacked a united frame of reference for performance expectations. The students facilitated a values discussion at an all-staff meeting, guiding LYRASIS as an organization to develop a values framework, to which they will align the 360° Reviews going forward.
Service Innovation. A key concern highlighted by multiple LYRASIS teams was the disconnect between organizational needs and information technology implementation. The students pieced together business and membership life cycles that would help the restructured IT team focus their efforts on critical organizational issues.
Industry Innovation. LYRASIS, with its member base of over 4,000 libraries, museums, and archives, is well-positioned to become a thought leader in the digital preservation space. The students are developing a strategy to allow for LYRASIS to not only innovate on their services offerings, but also begin to take a leadership role and foster Communities of Practice around those service offerings by increasing the reach of existing CoPs and building upon the success of working groups.
Karina, Meagan, and Carlota worked side-by-side with Robert's team to rethink membership/funding models, organizational strategies, and even a technology roadmap. They earned the trust of his team and were a part of a complete pivot that brought new collaboration practices, new ideas and implementation strategies that impacted the bottom line in less than 120 days. "Truly remarkable!" Robert writes, already considering sponsoring another Capstone project.
What's unique about our IKNS students is that they are not pure consultants, nor are they pure students. Assisted by Thor Madsen, IKNS Capstone faculty member who works by day at GartnerGroup, the students are introducing IKNS frameworks and analytical methods, such as how to differentiate knowledge-products and lead collaboration. At the same time, the master's students draw on their own professional experiences. Meagan, Associate Director of Web Communication at Columbia Law School, has worked in social media at organizations like Magnum Photo. Karina, Director of the Project Management Office at New York Road Runners, has worked in finance and consulting. Carlota, Knowledge and Collaboration Strategist for FireEye Customer Services, has worked with some of the big internet names of our time including Netflix, Facebook, and NetGear. With these experiences, they've brought communication and management skills, as well as the infectious energy that comes from deciding to go back to school for a master's in mid-career.
"I think we all knew we'd follow Robert," Carlota says, "and I truly feel we've made a lasting impact. This project has been tremendously rewarding."
Karina adds, "We've build a strong sense of trust. I also feel I could go anywhere and do anything with this team. We are considering doing a startup together."
As IKNS Director, I'm grateful that an auspicious call from Robert has set in motion great outcomes for LYRASIS and the IKNS program. In his words, "Taking on a CEO role is one of the most exciting things professionally one can do. Having Columbia's three IKNS' Capstone students with me made my first days so much more productive, successful and just plain fun!"
---
Katrina Pugh is Program Director of the Information and Knowledge Strategy Master's Program at Columbia University.