Level:
Open to students entering grades 9 through 12 or freshman year of college in the fall
Session:
I - June 25–July 13, 2018
II - July 17–August 3, 2018

Days & Time:
Monday–Friday, 9:10 –11:00 a.m. and 1:10–4:00 p.m.
Teacher(s):
Miguel Cardenas, Ioana Manolache
Prerequisites:
Some experience with drawing is recommended but not required.
"This course has been by far the best instruction I've received as an art student – awesome experience!" — Anton Zhou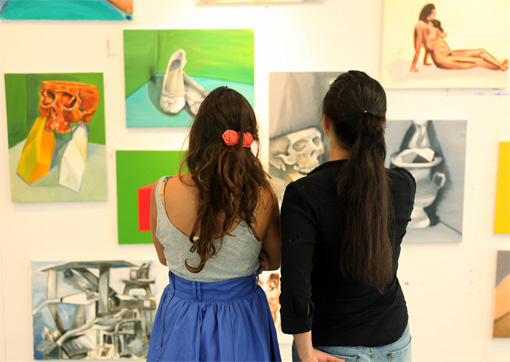 Course Description
Studio arts courses are offered in conjunction with Columbia University's School of the Arts.
Students explore various approaches to painting from observation. They learn the basic principles of color theory, oil painting techniques, and diverse approaches to the study of the human figure. Studio work is combined with individual and group critiques as well as lectures and field trips to major museums and art galleries in New York City. Assignments focus on the use of materials, composition, color theory, and creativity and visual communication in painting. Students also learn how to prepare a final portfolio for college applications.
Lectures by visiting artists as well as a final course exhibit complement the course program.
Some experience with drawing is recommended but not required. All materials are provided.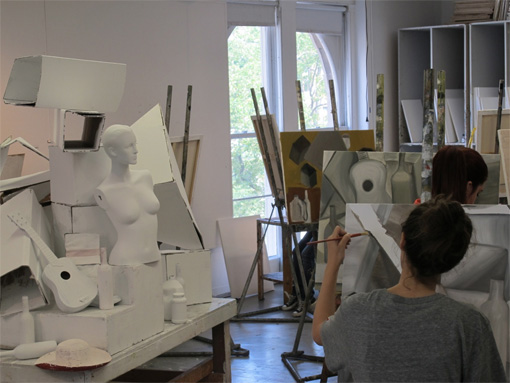 Teacher(s)
Miguel Cardenas
Miguel Cardenas grew up in Colombia and France. He holds an undergraduate degree in painting from the Rhode Island School of Design, where he participated in the European Honors program in Rome, and a master's degree in visual arts from Columbia University, where he received the Agnes Martin award for excellence in painting. He has been a member of the Columbia visual arts faculty since 2007. Miguel has exhibited in diverse solo and group shows in Latin America, Europe, and the United States; his work is in the permanent collection of the Banco de la República museum in Bogotá.
Ioana Manolache
Ioana Manolache holds a BFA from Cooper Union and an MFA from Columbia University. She is a recipient of the Rema Hort Mann Foundation Community Artist Grant and has exhibited her work in New York City at Etay Gallery, Orgy Park, Judith Charles Gallery, the Fisher Landau Center of Art, The Wallach Gallery, and The Last Brucennial, amongst others. Ioana was awarded a residency at the Contemporary Artists Center in Woodside, NY, and curated a group exhibition, "Stirring Still," at Columbia's LeRoy Neiman Gallery. Her work was selected as Noteworthy in the New American Paintings MFA publication and included in "Surface Tension," a show of notable graduates organized by Saatchi Art.
Specific course detail such as hours and instructors are subject to change at the discretion of the University. Not all instructors listed for a course teach all sections of that course.