Level:
Open to students entering grades 9 through 12 or freshman year of college in the fall
Session:
I - June 25–July 13, 2018

Days & Time:
Monday–Friday, 9:10 –11:00 a.m. and 1:10–3:00 p.m.
Teacher(s):
Andrew Meyers and co-instructors (see below)
"I learned a lot about the history of the city, its people and infrastructure, and why it became the world capital we know today." — From a program course evaluation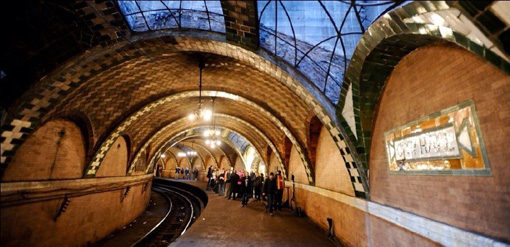 Course Description
An experiential, immersion course designed for students interested in the urban environment, culture, literature, history and public policy. The course includes five interconnected classes (see below) that meet daily over three weekdays with two days a week reserved for fieldwork in New York City with city policymakers, philanthropists, and artists.

New York City: A History of People, Politics, and Place
What is New York City's relationship to the American Dream? How does the City grow from its origins as a peripheral colonial outpost into a world capital? This overview explores New York's dynamic economy, tumultuous politics, multiethnic and multiracial populace and innovative architecture as a basis for the other aspects in the course. We consider three boroughs in depth, exposing students to methods of field study, visual analysis, and critical interpretation. Field work: historic walking tours, neighborhood mapping, architectural study.

Writing the City
How is our experience of New York, the city's image and self-image, shaped by literature about the city? Using novels, short stories, poems, popular song, journalism and essays, students investigate the connection between city writing and the city. Field work: literary walking tours, writing in the city, readings with authors.
Culture of the City
Is New York City really a melting pot of ethnicities and classes? Students explore ethnic communities, "high" and "popular" culture, and the diffusion of culture in the "mosaic" that is New York. The focus will be on Latino New York, investigating the language, music, food, religion and lifestyles in the city's Latino neighborhoods, and in downtown and Off-Off Broadway theater. Field work: studying Spanish Harlem, "Loisaida"- the Latino Lower East Side, and visits to theater companies and a performance in a city venue.

Urban Place Design
What places make for an inclusive, successful, lively, and resilient city? We study various answers to this question – public/private partnerships (e.g. Bryant Park), the NYC Department of Transportation Plaza Program, public parks (e.g. Central Park), privately-owned public spaces, and business improvement districts – in order to learn the fundamental dynamics of public space in New York City. Armed with that knowledge, we select a location and design our own proposals for public spaces. Field work: visiting and evaluating public plazas, meeting with designers and policymakers at the NY Department of Transportation, Neighborhood Plaza Partnership, and Times Square Alliance.
Emerging Urban Issues
The instructors and invited experts introduce students to key policy, financial, and legal issues confronting American urban areas today. Topics include urban sustainability, green energy and transportation, affordable housing, urban planning, and zoning. Current events illustrate the problems facing America's cities, including the new HighLine park, pedestrianization of Broadway, bike lanes, the Hudson and Atlantic Yards proposals, new sports stadiums and the rebuilding of Lower Manhattan. In addition to engaging in dynamic class discussions about contemporary affairs, students work with invited experts from the public and private sector, devise their own policy memos, and visit relevant locations in New York City, acquiring a first-hand understanding of particular approaches to urban issues. Through the consideration of race, class, technology, environment, social welfare, and public policy, students acquire a solid grounding in the historical origins of contemporary urban issues.
Teacher(s)
Andrew Meyers
Andrew Meyers received his A.B. in architecture from Princeton University, his M.A. in architectural and planning history from Yale University, and an M.Phil. in American urban history from Columbia University. He has taught courses at Connecticut College, Yale University, and Columbia University. Currently co-chair of the Education Design Team at the Whittle School and Studios, he was chair of the history department and founding director of the City Semester program at the Ethical Culture Fieldston School. Meyers is a specialist in American urban and architectural history. His publications in urban history focus on the development and planning of the modern American city. He was among the first tour leaders for Big Onion Walking Tours, New York City's largest provider of historical and architectural walking tours.
Vincent Drybala
Vincent Drybala received his B.A. in English from Allegheny College and his M.F.A. in creative writing from Sarah Lawrence College. He has worked as an English teacher at the Fieldston School since 2008, and is a founding teacher of the City Semester program at the Fieldston School. He has been involved in establishing leadership groups and coaching sports, and has a particular fondness for ultimate frisbee.
Jennifer Tammi
Jennifer Tammi holds a B.A. in American history from Gustavus Adolphus College, an M.A. in women's history from Sarah Lawrence College, an M.A. in U.S. history from Rutgers University, and a Ph.D. in American history from Columbia University. Her specialties include the history of the working class, immigration, and social movements. She has worked as a history teacher at Ethical Culture Fieldston School since 2009, teaching such classes as Gotham: A History of NYC, History of the Working Class, American Immigration, and The Rise of the Right. Besides teaching, Ms. Tammi is involved with the Fieldston Women's Leadership group, is as an advisor to the Gay Straight Alliance club, and serves on the Academic Integrity Committee.