Level:
Open to students entering grades 9 through 12 or freshman year of college in the fall
Session:
I - June 25–July 13, 2018 (Course Filled)

Days & Time:
Monday–Friday, 9:10 –11:00 a.m. and 1:10–4:00 p.m.
Teacher(s):
Miguel Cardenas
"The creativity and different materials used was an adventure and fun." — From a program course evaluation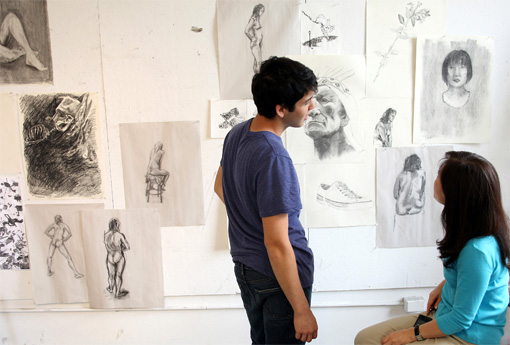 Course Description
Studio arts courses are offered in conjunction with Columbia University's School of the Arts.
Through drawing, students explore various modes of looking at and interpreting the world. The course emphasizes drawing from observation and imagination as ways to learn traditional drawing techniques in order to foster creativity and personal interpretation. Course assignments stress observation while focusing on experiments with materials in order to find creative approaches to visual problem-solving. Assignments include exercises in composition, use of charcoal and pencil, graphic drawing techniques, wet media, color theory, and optical illusions.
The course combines studio work, the study of the human figure through live models, outdoor drawing, individual and group critiques, and visits to major museums and contemporary art galleries. Students also learn how to prepare a final portfolio for college applications. Lectures by visiting artists as well as a final course exhibit complement the course program. All materials are provided.
Teacher(s)
Miguel Cardenas
Miguel Cardenas grew up in Colombia and France. He holds an undergraduate degree in painting from the Rhode Island School of Design, where he participated in the European Honors program in Rome, and a master's degree in visual arts from Columbia University, where he received the Agnes Martin award for excellence in painting. He has been a member of the Columbia visual arts faculty since 2007. Miguel has exhibited in diverse solo and group shows in Latin America, Europe, and the United States; his work is in the permanent collection of the Banco de la República museum in Bogotá.
Specific course detail such as hours and instructors are subject to change at the discretion of the University. Not all instructors listed for a course teach all sections of that course.