Level:
Open to students entering grades 9 through 12 or freshman year of college in the fall
Session:
I - June 24–July 12, 2019
II - July 16–August 2, 2019

Days & Time:
Monday–Friday, 9:10 –11:00 a.m. and 1:10–4:00 p.m.
Teacher(s):
Ioana Manolache, Zoe Nelson
"The creativity and different materials used was an adventure and fun." — From a program course evaluation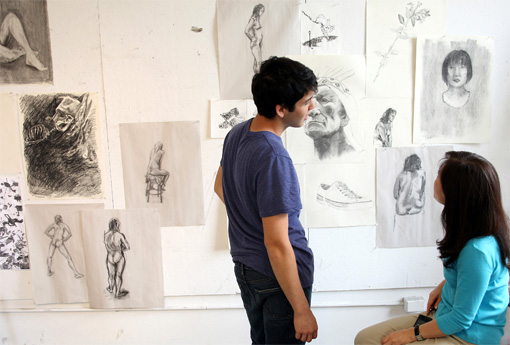 Course Description
Studio arts courses are offered in conjunction with Columbia University's School of the Arts.
In this beginner-level class, students explore various modes of looking at and interpreting the world through drawing. The course emphasizes drawing from both observation and imagination as ways to learn traditional drawing techniques and foster creativity and personal interpretation. Course assignments stress observation while focusing on experiments with materials so as to find creative approaches to visual problem-solving. Assignments include exercises in composition, use of charcoal and pencil, graphic drawing techniques, wet media, color theory, and optical illusions.
The course combines studio work, including the study of the human figure using live models, with outdoor drawing, individual and group critiques, visits to major museums and art galleries, and talks given by visiting artists.
Participants also learn how to prepare a final portfolio for college applications, and the session concludes with a group show to which parents, friends, and other program participants are invited.
All materials are provided. Students who have significant drawing experience might consider taking Drawing: Eye and Idea instead of this course
Teacher(s)
Ioana Manolache
Ioana Manolache holds a BFA from Cooper Union and an MFA from Columbia University. She is a recipient of the Rema Hort Mann Foundation Community Artist Grant and has exhibited her work in New York City at Etay Gallery, Orgy Park, Judith Charles Gallery, the Fisher Landau Center of Art, The Wallach Gallery, and The Last Brucennial, amongst others. Ioana was awarded a residency at the Contemporary Artists Center in Woodside, NY, and curated a group exhibition, "Stirring Still," at Columbia's LeRoy Neiman Gallery. Her work was selected as Noteworthy in the New American Paintings MFA publication and included in "Surface Tension," a show of notable graduates organized by Saatchi Art.
Zoe Nelson
Zoe Nelson is a faculty member at Parsons School of Design in New York City, where she teaches painting and the fundamentals of 2D media. She has been a visiting artist at numerous schools, including the School of the Art Institute of Chicago, Northwestern University, and the Milwaukee Institute of Art and Design. Recent and upcoming solo exhibitions include JDJ Presents the Ice House, Garrison, NY (2018); The Lighthouse Works Gallery, Fishers Island, NY (2017); Cleve Carney Art Gallery, Glen Ellyn, IL (2015); and Western Exhibitions, Chicago, IL (2014). Nelson has received press in ARTFORUM, HuffPost, Bad at Sports, Newcity, and New American Paintings, among other publications. She holds a B.A. from Barnard College (summa cum laude) and an MFA from Columbia University.