"Exploring history in such a personal and vivid manner brought it to life in a way no textbook could have achieved."
— JOSH AMMIRATO
Traveling to and from Jordan
Students must have a valid passport and are advised to apply for their passports well in advance of their scheduled departure. Accepted students will also be asked to procure a Jordanian visa prior to departure.
Representatives from the program will meet students at the Queen Alia International Airport and escort them to King's Academy. Once in Jordan, students are accompanied by their instructors and resident advisers on all travel.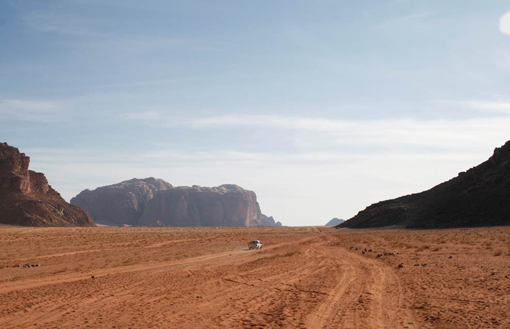 Field Trips in Jordan
Columbia University collaborates with two excellent local organizations for the travel portion, both of whose guides are professional, experienced, knowledgeable, and longtime friends of the program: Bedouin Discovery and EcoPeace Middle East.
Bedouin Discovery is a tour company run by Bedouin tribes from the Petra region. They offer a unique perspective not just on one of Jordan's most longstanding cultures, but also on the growth of the tourism industry, which drastically shifted their lifeways. Their tours are sensitive, diverse and entertaining, and the friendly tour guides have infinite patience and interest in our students' questions.
They will guide us for the following tours:
The spectacular Nabatean city of Petra, a wonder of the world
Petra's lesser-known but equally beautiful sister city, Little Petra, where students camp with Bedouin Discovery's tribe
Wadi Rum, a protected area covering 720 square kilometers of dramatic desert wilderness, where students camp with another Bedouin tribe
Traditional Turkish bath house in Wadi Musa
Amman's Citadel and Roman Amphitheater
Shobak, a twelfth-century Crusader stronghold
EcoPeace Middle East
EcoPeace Middle East is an Israeli-Palestinian-Jordanian environmental organization which works both at the grassroots and policy levels to raise awareness about the dire environmental challenges facing the region. Their knowledgeable, fact-driven tours give students a bigger picture in which to view the political conflicts of the Middle East, as well as teach them fascinating, if disturbing, information about the region's delicate ecosystem.
EcoPeace will guide us for the following tours:
Mount Nebo, where Moses is said to have looked out over the Promised Land
The fourth- and sixth-century Byzantine and Umayyad mosaics in Madaba
The Dead Sea, for a swim and a look at the sea's recession
Bethany on the Jordan, the baptismal site of Jesus
Sharhabil bin Hassaneh Eco-Park in northern Jordan
Al-Himmeh, northern Jordanian village in the Yarmulke River Valley
Umm Qais, Hellenistic-Roman town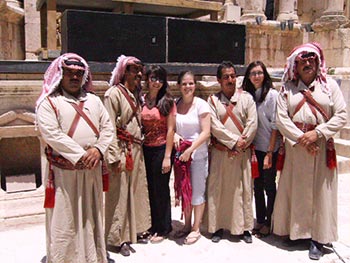 In addition to these trips, students will take a number of day trips in the Amman area, accompanied by their instructors and various guest lecturers:
Salt, an important nineteenth-century Jordanian city
Darat al-Funoun Contemporary Art Museum, Amman
Columbia University Middle East Research Center (CUMERC)
City Stars, a megamall
Program details are subject to change at the discretion of the University.