Throughout the program, the group is accompanied by Site Director Carson Raymond, Site Coordinator Núria Cabrera, and experienced resident advisers.
Carson Raymond, Site Director
Carson Raymond has worked for Columbia's Summer Programs for High School Students since 2007 and with the Barcelona program since 2008. He holds a B.A. in Spanish and leadership studies from the University of Richmond. Carson has served on the faculty of two different boarding schools, the Darlington School in Rome, Georgia, and the Blue Ridge School in St. George, Virginia, at both of which he taught Spanish, served as a member of the residential dormitory staff, and coached a myriad of sports. He has lectured on leadership theory at the St. Marks School of Texas in Dallas, Texas, and at the Lausanne Collegiate School in Memphis, Tennessee. Currently, Carson works in educational consulting, specifically dealing with private schools in the United States. During his collegiate career he spent a semester in Valencia, Spain, where he became fascinated with all things Spanish. Since that time he has traveled to roughly thirty towns and cities throughout Spain.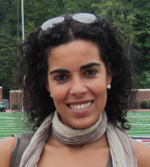 Núria Cabrera, Site Coordinator
Núria Cabrera has worked with the Summer Programs for High School Students every summer since 2002. She was first a resident adviser with the program in New York and since 2003 has worked with the Barcelona program. During the year Núria works in the realm of event management and convention coordination. She has organized events for companies all around Spain and traveled throughout Europe to represent these organizations and meet with industry dignitaries. Her language skills—specifically in Catalan, Spanish, English, and French—have been quite useful in her professional pursuits. Núria is a native of Barcelona and holds a degree in tourism from the University of Barcelona.
The resident advisers have completed Columbia's intensive two-week training program and have previously spent one summer working as resident advisers in the New York program.
The site director, site coordinator, and RAs, in addition to looking after the safety and comfort of the students and strictly enforcing the Behavioral Standards Agreement, organize numerous optional extracurricular excursions in and around the city.
The RA to student ratio is approximately 1 to 10. The site director and resident advisers are housed together with the students and provide supervision whenever class is not in session.
Access to the residence hall is controlled by the reception desk, which is staffed 24 hours a day. Additional security personnel are added at night. Gatherings in rooms are prohibited after 10:00 p.m. Visits with guests who are not in the Barcelona program are restricted to the ground floor. Visitors must identify themselves at the reception desk as guests of a resident and must leave the residence hall by 11:00 p.m.
A curfew (11:00 p.m. during the week and midnight on Fridays and Saturdays) is strictly enforced.
Emergency medical and travel insurance coverage in Spain is provided by the program. Generally, this insurance covers the cost of emergency care at either the residence or a local hospital. All participants are required to have their own medical and mental health insurance or Medicaid coverage.