Drawing: Eye and Idea
Level: Open to students entering grades 11 or 12 or freshman year of college in fall 2016.
Session: I, June 27–July 15, 2016
Days & Time: Monday–Friday, 10:10 a.m.–12:00 p.m. and 2:10–4:00 p.m.
"I definitely improved by drawing skills and started to find a style of my own." — Kaha Rash, 2015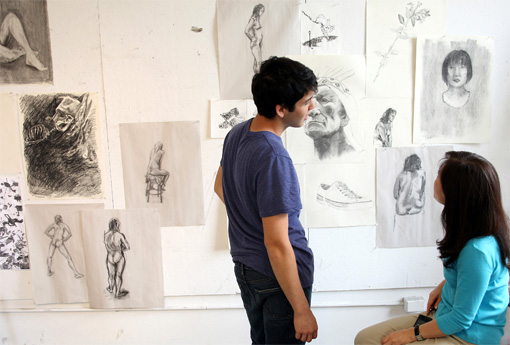 Course Description
Studio arts courses are offered by the Summer Program for High School Students in conjunction with Columbia's School of the Arts.
Through drawing, students explore various modes of looking at the world around us. The course emphasizes drawing directly from observation; however, students are also encouraged to experiment, play with the materials, and work from their imaginations to find their own creative approach to visual problem solving. Visits to museum collections of drawings serve as inspirational springboards to enhance learning. Students work with pencil, charcoal, and ink both in the classroom and outside in the local urban landscape. All materials are supplied.
On the last day of the course, the class hosts an exhibition opening party to which family members, other participants in the Summer Program, and the general public are invited.
Teacher(s):
Molly Smith
Molly Smith lives and works in rural western Massachusetts. In her studio practice, she works with watercolors on paper, collage, papermaking, and sculptures with found materials. She holds a B.F.A. from Rhode Island School of Design and an M.F.A. from Columbia University. She has had four one-person shows in New York City and two in California and has been in group shows nationally and internationally, including Paula Cooper Gallery, New York; Sikkema Jenkins & Co., New York; Leo Koenig, Inc, New York; the Contemporary Art Center, Cincinnati; Gallery Min Min, Tokyo; and Roger Bjorkholmen Galleri, Stockholm. Her work has been reviewed in Artforum and The New Yorker. She has taught painting and drawing as an Adjunct Professor at Columbia University, New York University, and Rhode Island School of Design.
Specific course information, such as hours and instructors, are subject to change at the discretion of the University.