Activities & Events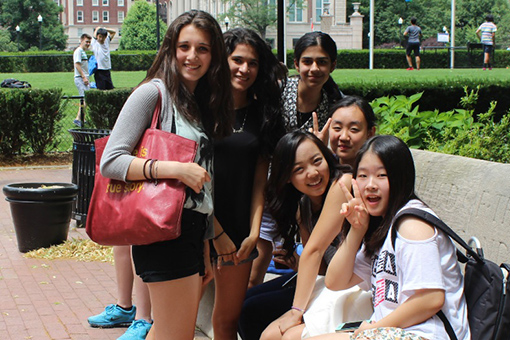 "There were such a wide range of extracurricular activities that I wanted to make copies of myself so as to be in three different places, ranging from community outreach, lectures, playing soccer, and hanging out with friends." Alex Kim, 2015
Midday Activities and Co-Curricular Programming
All students of the Columbia University Summer Programs for High School Students have the chance to engage with a great array of social, recreational and co-curricular activities offered during every midday break. Student can pick and choose from attending special lectures, exploring careers, developing academic skills, strengthening their college applications, participating in outreach to the communities and people of New York City, or simply getting to know other students. See the descriptions below to learn more.
"The lectures at the Academic Skills Center were so inspiring! I attended all of them!" Sophie Doldenburg, 2015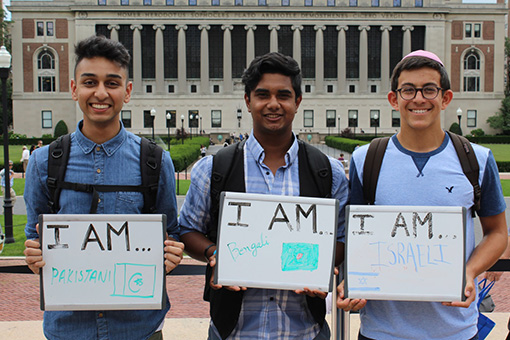 Community Outreach
The strongest communities are formed by ordinary people shaping a brighter future for those in need. Contributing to the public good and the beauty of public spaces in our own neighborhoods is an investment in a life of meaning. Students of the Columbia University Summer Programs for High School Students are encouraged to participate in the program's many community outreach projects serving the children, seniors, and less fortunate individuals who are part of the New York City community. Through projects such as working in soup kitchens, teaching computer skills to seniors, or building inner-city gardens, students change the world and their understanding of the impact we can have as individuals.
Academic Skills Development
Strong academic skills emerge not only from hard work in the classroom, but from establishing strategic and organizational principles as a foundation for one's effort—from learning about opportunities and resources that exist beyond the typical curriculum of one's university. The students of the Columbia University Summer Programs for High School Students are provided a dedicated center for academic development providing instruction in such topics as study strategy, classroom participation, test prep, study abroad, and selecting a college. The program assistants who designed and run the seminars are students from top universities, providing students direct access to successful strategies for navigating the contemporary university classroom experience.
College Application & Admissions Seminars
Choosing which colleges to apply to and preparing applications can be a tough experience. Students take advantage of our strong application and admission guidance to demystify the admissions process and clarify their college-choice goals. The Columbia University Summer Programs for High School Students provides strong co-curricular programming exploring the application and admissions process, how to write the college application essays, and forming a criteria for choosing the right college for you.
All program sessions feature seminars by Columbia University and Barnard College Undergraduate Admissions providing important information on attending Columbia or Barnard. Further seminars in each session address writing the academic and personal statements in the Common Application.
During Session II, Columbia University Undergraduate Admissions presents a college fair featuring over 150 major schools.
Career & Leadership Speakers Series
The Columbia University Summer Programs for High School Students hosts an array of industry leaders to discuss career and leadership topics with our students. From early career preparation strategies for specific industries to broader leadership skills, these talks will provide students a view into the jobs that interest them along with a template for success.
Special Topics Lectures
Columbia University Summer Program for High school Students faculty members put on a great lecture series exploring many contemporary topics that define today's world, including business ethics, biology, psychology, and thought leadership.
The Dean's Leadership Awards
Each program session, the Dean's Leadership Awards are presented to those students who best exemplify the Summer Programs for High School Students' values of academic excellence and community support. Awards are distributed in each of the program's major academic disciplines and as well as for Community Service and Peer Leadership. Dean's Leadership Awards winners are feted in a small ceremony at the end of the program.