Alumnus Q&A: Finding a Dream Job with a Construction Administration Degree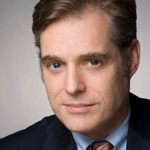 Greg Brooks, Associate Project Manager, Jones Lang LaSalle, and 2013 graduate of Columbia's M.S. in Construction Administration program.
Greg, you had an MBA and a 20-year career as a private banker. How did you get from there to Jones Lang LaSalle, where you now manage all renovation projects for HSBC Bank in the Americas?
Greg Brooks: I bought and renovated a big old Victorian house in a tiny town in upstate New York called Jeffersonville. I used to drive past it all the time. I thought, 'Somebody should do something with this property' and finally I decided that that somebody had to be me. I made it into an antique shop and an art gallery. I went to Parsons and I'm an artist so I showed my own work as well as other artists there. For a few years, that was my escape from Manhattan and a corporate banking job, moving in the direction of doing something that combined my business and creative background.
Then you joined ABC Carpet & Home.
Having this retail experience and working with home furnishings, I walked into ABC and talked them into hiring me as the business manager of their leasing operation. I enjoyed designing spaces and working with the facilities director on building issues, systems, and renovation–anything to do with sawdust, Sheetrock, and 2×4s. It was a lot of fun and I decided I wanted to move more toward real estate and building-related issues. That's when I decided to look into the Construction Administration program at Columbia.
What convinced you to apply?
The name and the fact that it's Ivy League were big factors for me. I think I saw an ad in the Times for an info session and I went to that. That was what convinced me to give it a shot. I started the program thinking, 'Well, let me see if I enjoy the coursework,' so I went into the first semester with an open mind.
Everything must have worked out.
I started the program in January 2009 and I immediately loved the classes I was taking. I enjoyed the basic engineering class I took first semester. The project management class that I took with Mysore Nagaraja was really interesting and enjoyable.
You received your MBA from another university in New York. How did your experience at Columbia compare?
Because I enjoyed the work and the field of study, I felt a much stronger connection to the students and the faculty at Columbia.
You received your Columbia degree this May. How did it help you transition from leasing to construction?
The degree really helped me discover what my passion was–the planning, scheduling, and estimating–everything that goes into running a successful project. Other than that, it was a lot of really practical information about how projects are managed. When I went to the interviews for a project management position, I was familiar with all of the terms. I could speak the same language as people who had been in the business for many years.
Did your Master's Project help?
The process of putting together construction documents on a building directly relates to the work I do today.
What does your work for HSBC Bank involve?
Jones Lang LaSalle is good at being really strategic about real estate so a lot of what we're doing is downsizing–moving branches into smaller locations. If there's an opportunity to give up some space in a branch, go from a 5,000-square-foot branch to a 3,000-square-foot branch, there's construction involved in doing that. Same thing with office space–if we can fit 30 back-office employees in a smaller space and the lease is coming up for renewal, we'll do that, with different work stations, reconfiguring the space, and getting rid of private offices. There's definitely an effort to maximize the use of real estate and that means reducing it as much as possible whenever we can.
What's next for you?
I love what I'm doing right now. Project Manager for a company like Jones Lang LaSalle is a dream job. Coming in as an Associate Project Manager, the typical career path would be to become a Project Manager and then a Senior Project Manager. That's going to happen fairly quickly because of my work experience and my Columbia degree.