Largest Ever Class Graduates From School of Professional Studies
In a Commencement Week of firsts for Columbia University's School of Professional Studies, 617 students graduated today from the School's thirteen master's programs, the largest class yet. And on Monday, SPS celebrated its first Class Day on South Lawn, the heart of the University's Morningside Heights campus and the traditional Class Day site for Columbia's Business School, Law School, Columbia College, and the School of General Studies.
Kicking off Class Day, students donned their Columbia blue caps and gowns and convened in Lerner Hall's Roone Arledge Auditorium in preparation for their procession to the South Lawn.
Among the soon-to-be graduates was Venera Kusari, SPS Class Day student speaker and a 2014 candidate for a Master's Degree in Negotiation and Conflict Resolution. Looking back on her time at Columbia, she said, "I'm passionate about the Negotiation and Conflict Resolution program. I liked that we studied in theory what conflict is about and the social psychology behind it." Kusari, a refugee from Kosovo, mentioned that she wouldn't be where she is today without the help of her friend, the acclaimed journalist and documentarian Sebastian Junger.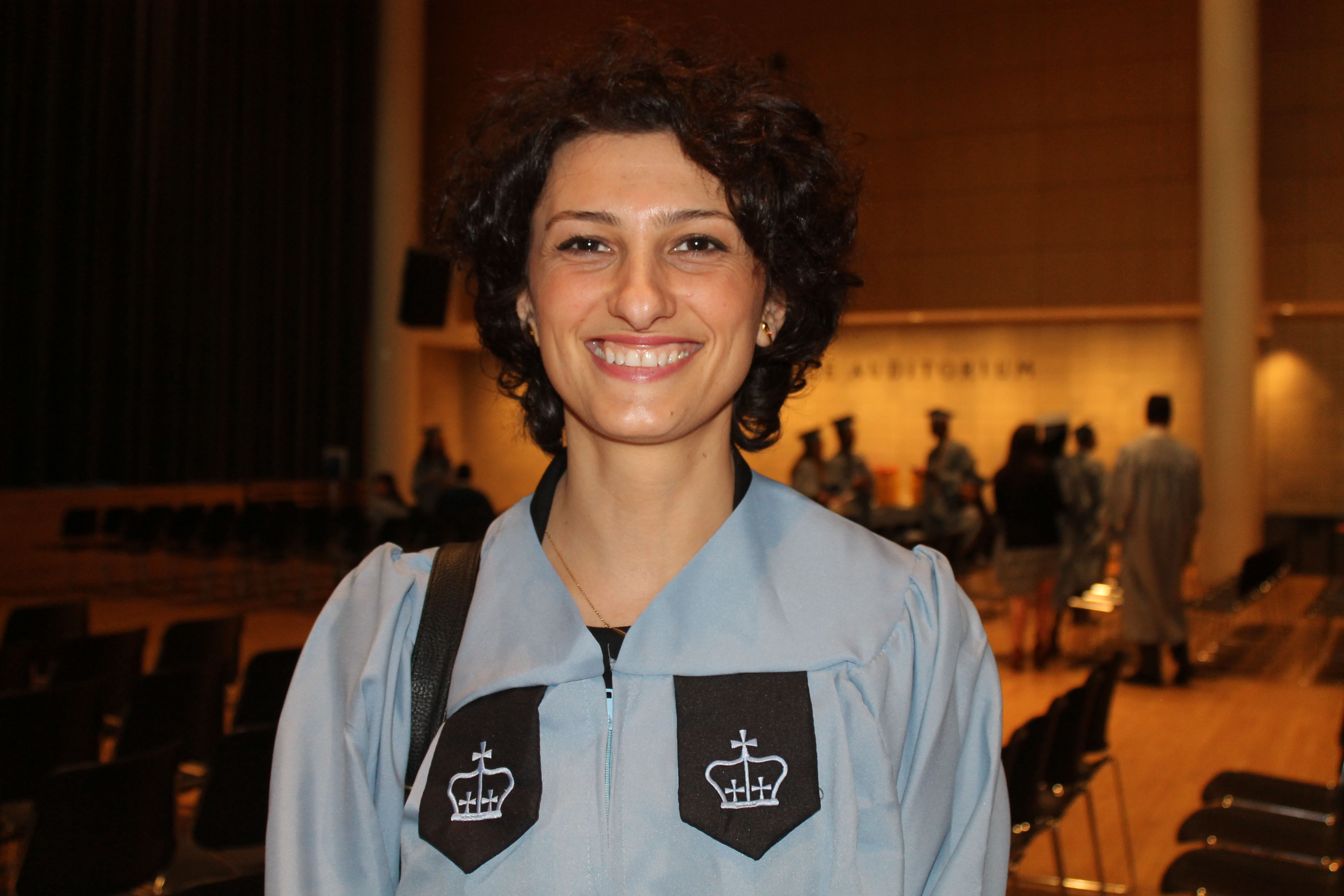 Venera Kusari
Another soon-to-be graduate was Ashish Sanwal, a candidate for an Executive Master's Degree in Technology Management. "Working [full-time] and doing the program at the same time was a challenge," he said, "but it paid off." He recently embarked on a new venture called Usher, a biometrics software technology startup. According to him, almost a third of his graduating class are moving on to new jobs in technology or are starting their own tech enterprises.
After the graduating class processed past Butler Library to the seated area beneath the vast white tents on the South Lawn, Dean and Professor of the School of Professional Studies Kristine A. Billmyer and Provost and Professor of International and Public Affairs and History John H. Coatsworth welcomed them with congratulatory remarks, as well as a call to action. Dean Billmyer told the graduating class, "Make your contribution to the greater good part of your lifelong agenda."
Guest speaker Arthur Lerner-Lam, Deputy Director of the Lamont-Doherty Earth Observatory, greeted the soon-to-be graduates. In his speech, he acknowledged the changing economic, political, and stratospheric climate and urged students toward civic duty: "You are mature citizen scholars. You now approach the levers of power with new tools."
Program directors and faculty from the School's master's programs gathered to announce the hundreds of students in the graduating class of 2014. Following the presentation of the candidates, Kusari took the stage and delivered the Student Address. In Kosovo, she said, "Finding strategies for survival was the essence of my life. Dreaming of standing in front of you today was absolutely unimaginable." But as she acknowledged her struggle, she offered words of hope for her fellow degree candidates as they embarked on their post-college careers: "The knowledge we have accumulated during these years is invaluable. It illuminates what it means to be human and clarifies what it means to act humanely."
An estimated 2,000 guests applauded the candidates, who processed from the South Lawn to a celebratory reception at Avery Plaza, which quickly filled with a sea of proud friends and family members of soon-to-be-minted graduates of Columbia University.