Columbia University Kicks Off its First Annual Actuarial Science Career Fair
At the auditorium at Columbia University's Lerner Hall, over 100 students gathered for the first annual Actuarial Science Career Fair, an exclusive event for students and alumni of the M.S. in Actuarial Science program at Columbia's School of Professional Studies.
The career fair featured 17 employers including AIG, MetLife, Deloitte, among others. As many as a dozen students queued up to speak with each of the recruiters.
A representative from Ernst & Young said, "We recruit at Columbia because of the reputation and the caliber of the program. We tend to get very polished candidates from here."
She said, "Two of our interns over the last year were from the Columbia University Actuarial Science program." That day in particular, Ernst & Young was recruiting for 16 full-time P&C and life health actuarial positions across the U.S. They have offices in Los Angeles, Chicago, Boston, Philadelphia, and New York, to name a few.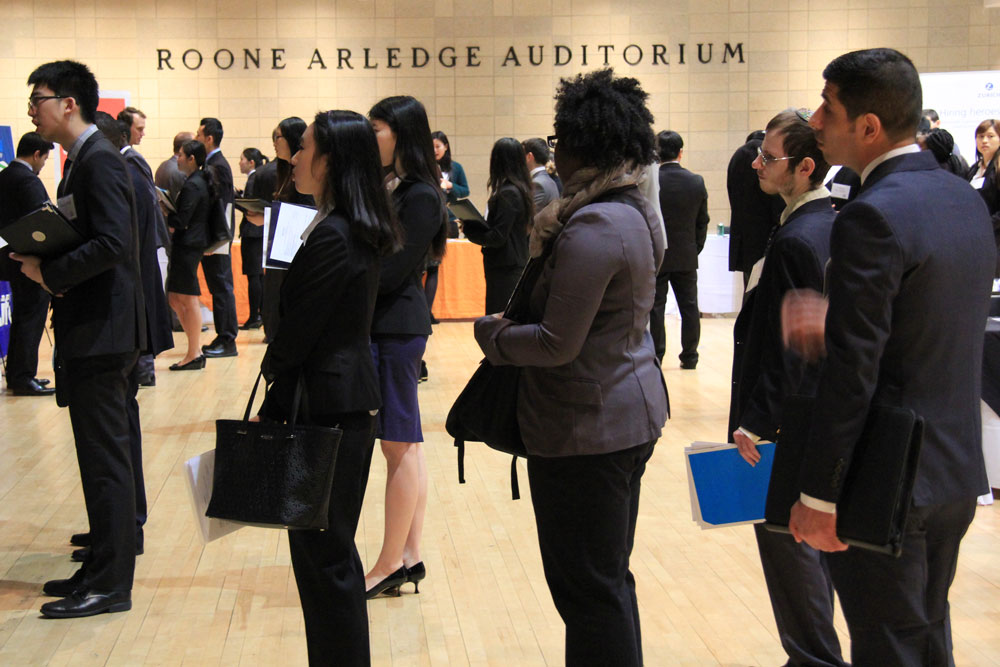 The new M.S. in Actuarial Science career fair supplements the Actuarial Society of Greater New York (ASNY) career fair, which took place last year in September in New York City. While ASNY's event attracts college freshman through graduate students in the tristate area, the Actuarial Science Career Fair at Columbia University is exclusively for students and alumni of the graduate program.
"We have the connections to be able to host our own [event]," said program director Lina Xu. "We wanted to do something that was focused on our students."
She mentioned that, although the career fair didn't coincide with the usual fall recruiting season, the timing was particularly advantageous for May graduates and internship seekers who were hoping to land jobs that begin in the summer.
Erin Choi was one of the many students at the career fair who was looking for a summer internship. She said of attending the event, "It helps me get an idea of what's going on in the industry and the characteristics that the employers are looking for." She pointed out that several representatives mentioned the importance of strong programming skills, which is one element that Actuarial Science students focus on during the program.
Xu noted that the career fair is only one of the program's many successes. Among domestic students in Columbia's program, most of them went on to find jobs within three months of graduating. Based on a Columbia University Actuarial Science survey, the program has filled over 100 actuarial jobs since fall 2014.